Reliable low-latency wireless communication links are the "central nervous system" for the digitization of many industries. Safe operation and minimum energy consumption are key requirements.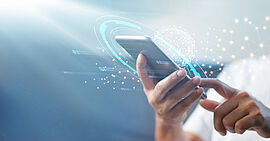 Reliable wireless communication systems will increase the safety and reduce the operational cost of energy efficient public transport systems, e.g., by replacing cabled safety systems by wireless links. Advanced manufacturing processes will utilize dependable wireless communication systems for controlling human-robot and robot-robot interaction. These capabilities are the key to a competitive Austrian business location with improved digital autonomy for modern industrial companies
The wireless communications research group at AIT lead by Thomas Zemen, has built up a comprehensive know-how in the domains of physical layer design, baseband signal processing, wireless channel measurement and modelling, software defined rapid prototyping and real-time wireless digital twins.
AIT offers comprehensive know-how for a wide range of communication standards up to 5G, and a long term 6G research activity has been started in 2021 to strengthen the positioning of AIT in this worldwide future-critical research field.