Our Expertise – Our Technology
Scientists at AIT's Bioresources Unit develop new technologies and tools aimed at increasing the exploitation of plant and microbial resources as well as a more efficient detection of airborne and environmental pathogens. The team's goals are to make advancements in sustainable crop production and pest control and to develop microbe-based solutions for the bioeconomy. Bioresources Unit is a reliable and well-respected scientific partner to industry, academia and public institutions.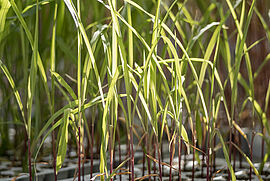 IMPROVING PLANT VIGOR
We explore the molecular mechanisms of plants critical for stress tolerance and develop innovative strategies for crop improvement.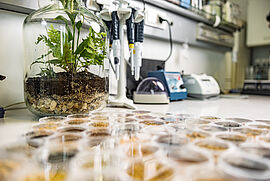 IMPROVING PLANT QUALITY
Using multi-omics approaches, we develop DNA-based genetic markers. These are versatile tools for research, plant breeding and selection programmes.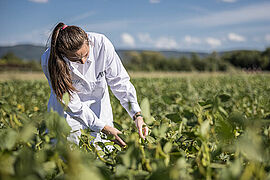 PLANT MICROBIOME APPLICATIONS
We explore the functioning of plant microbiomes, their interaction with the host plant and develop new agricultural applications to improve plant traits.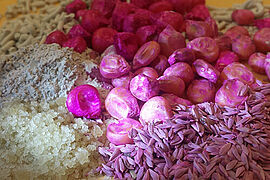 FORMULATIONS AND COATINGS
We develop formulations for microbial seed coatings and foliar sprays as well as methods for encapsulating agronomically relevant microorganisms to exploit their optimal potential in the field.
BIOCONTROL OF PLANT DISEASES
We develop microbial products for the biocontrol of various plant diseases and research their mode of action at the molecular, genomic and phylogenetic levels.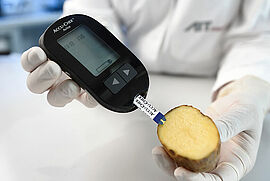 IMPROVING FOOD SYSTEMS
We develop microbial solutions and microbiome-based models to improve food systems.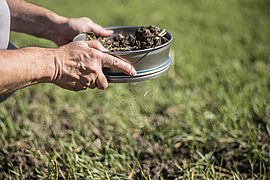 REMEDIATION
We develop microbial remediation technologies for the decontamination of organic pollutants.
BIOAEROSOL RESEARCH
We research the detection, identification and analysis of bioaerosols using molecular biological methods. We also develop and validate devices and processes for air purification.
Our Solutions and Services