Advances in technologies and novel transportation services transform the way people live, work, move, and interact with each other. Considering and understanding these changes and their potential implications is important for sustainable urban planning, traffic management and the development of future integrated mobility systems.
AIT's research group "Integrated Mobility Systems" aims at facilitating personal independence and mobility, while enhancing the reliability of transport systems and making traveling more efficient and sustainable. Based on long-standing expertise and novel results from research, AIT offers innovative solutions for impact assessments on different scales, the integrated modelling of various mobility modes and the design of responsive mobility systems, which adapt to individual and collective needs.
We develop data-driven approaches for modelling, analysis, and decision-making in a mobility system to transport people. Our research focus is to predict the movement of people in multi-modal systems to ensure seamless trips and hence to manage mobility as an integrated system rather as a package of mobility services. We address the necessity for improved demand management through persuasive strategies that trigger long-term intrinsic behavior change which has the potential to improve the efficiency of measures and to avoid rebound effects.
Our research investigates the introduction of new mobility concepts, such as autonomous vehicles, Mobility as a Service (MaaS) and Urban Air Mobility (UAM), into a transportation system to facilitate the expected opportunities for enhancing effective transport capacity, reducing traffic congestion and increasing safety and comfort. As such we develop novel modelling approaches which can be applied directly by different stakeholders to address many uncertainties that make investment and policy decisions related to land capacity and transportation planning challenging.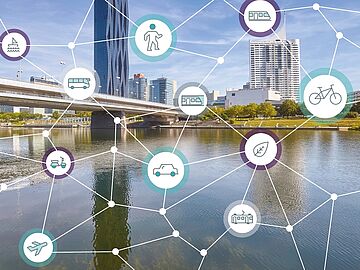 IMPACT
Re-designing mobility systems more efficiently
Interview with Stefan Seer on the topic of "Mobility systems in transition" (Outside the Box / OKTO - in German)