In an event of crisis, to react efficiently and effectively, whilst of course having a well-trained team and good preparation, an adequate overview of the situation and close coordination of all actors involved are required. In the Competence Unit COOPERATIVE DIGITAL TECHNOLOGIES of the AIT Institute of Technology, we develop innovative digital solutions which enable organizations to make informed decisions faster and to implement these decisions more effectively.
This includes concepts and solutions for the collection and exchange of data, the extraction of information such as exchange of experience and knowledge between the organizations involved. As a result, we are building a broad technological expertise, which ranges from IoT sensor networks on interoperability and data rooms to data analytics and mobile solutions.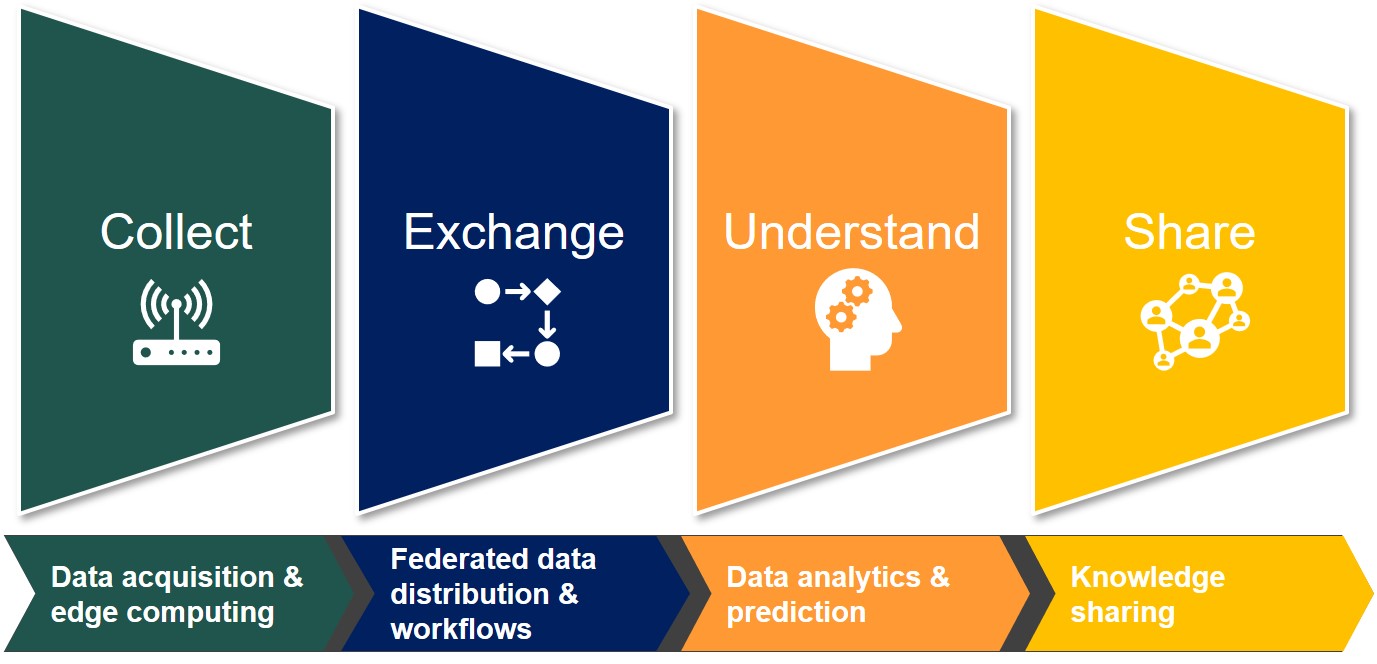 Collect
To be able to make the right decisions, you need reliable and meaningful data in good time. AIT uses alternative sensor technologies for recording and processing data. In this way, environmental incidents, climate changes, or critical situations are made measurable and decision makers can derive the most suitable short and long-tern measures from them. AIT's main research area in this field are resilient measuring systems, highly available sensor platforms such as the integration of different sensor platforms. For this reason, AIT provides digital and networked solutions that create the basis for profound decisions to improve safety, health, and the environment.
Exchange
In many situations, especially in time of crisis- or a catastrophic incident, it is vital to exchange information quickly and securely between different institutions. Secure communication via different IT-systems and organization boundaries poses a particular challenge. Furthermore, a flexible support from various work process and decision-making across Institutional boundaries is required.
Based on a requirements analysis carried out together with our stakeholders we have developed a secure and resilient communication solution-the AIT Public Safety Hub (PSH). Using flexible system architectures and adaptable interoperability concepts, information can be exchanged rapidly and securely through different systems to generate a common picture of the situation for example. This targeted, seamless exchange of information between operational and strategic systems enables interlocking planning of operations.
An additional focus of our research is consideration the involvement of the public. Not only they get alerted or informed but they also get to actively participate in large-scale operations, for example in areas that are difficult to access. AIT developed the solution CrowdTasker which offers a flexible basis depending on the application.
Understand
In order to identify relevant information in the multitude of available data, support through specific analysis and visualisation is required. In the Competence Unit CDT we have developed various methods to process and decision support in the areas of environmental monitoring, climate adaptation and crisis management. A special focus is on the integration of a wide variety of data sources such as social media data, satellite images and sensor networks. This enables the user to understand complex connections and to analyse such as analysing different scenarios and make decisions based on facts.
Share
In order to design resilient systems, it is essential to integrate our own experiences and knowledge, as well as from other organizations and to continuously adapt to changing conditions. The Competence Unit CDT developed the Portfolio-of-Solutions (PoS) which sets up systems for the exchange of knowledge that enable organisations to quickly identify the information relevant to them.
By means of development Trial-Guidance-Methodology and the Trial-Guidance-Tool (TGT) new concept solutions can be constructed evaluated and with that can each time the best fitting solution and application can be found.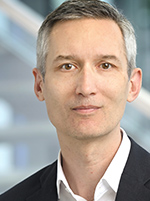 Head of Competence Unit
Cooperative Digital Technologies