Since 2016, the ARTTEC art programme at the Alpbach Technology Symposium, organised by us, has been showing the many similarities between art, technology and science. We rely on the support of professionals here – with partners such as Ars Electronica Linz, the MAK – Museum of Applied Arts and the University of Applied Arts, we have brought art to Alpbach.
In the fall of 2018, we finally brought ARTTEC to AIT as well – more specifically, to the foyer of our headquarters at Giefinggasse 4. Under the name ARTTEC at AIT, creative and interdisciplinary exhibitions with international artists broaden the perspective of our employees and guests at our location.
2022 - currently Process studio – tokens for climate care
After almost two years of successful collaboration, we said goodbye to our Artist in Residence Judith Fegerl with a virtual talk at the end of January 2022. ARTTEC at AIT now continues - with Martin Grödl and Moritz Resl, better known as "Process Studio". The exhibition opened on 9 June 2022. The first part of the project can be seen in the foyer of Giefinggasse 4. This exhibition is based on AI technologies and has already been on display at Somerset House London and MAK - Museum of Applied Arts.
At the same time, Martin Grödl and Moritz Resl are already working on the next exhibition. They are supported by the Center for Vision, Automation & Control (Competence Unit Complex Dynamical Systems). The result will probably be on display in the foyer of Giefinggasse 4 in Vienna-Floridsdorf at the end of the summer.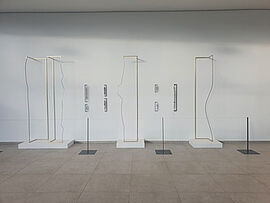 2020-2022 Judith Fegerl –
Capture
In the high-voltage laboratory of the Center for Energy, Judith Fegerl chased lightning and electric arcs through various sand mixtures in July 2020. The high heat caused the sand to melt and solidify into jagged tubes called fulgurites. In addition, old lightning rods were reactivated by lightning. The exhibits are on display in the foyer of Giefinggasse 4 until the end of the summer.
Here you can listen to the final talk with Judith Fegerl as a podcast (in German).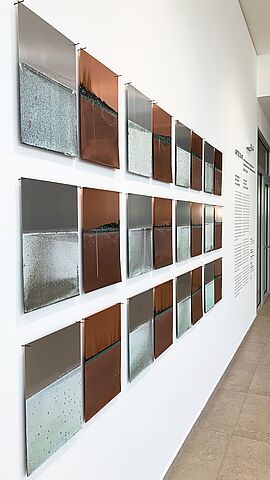 2019-2020 Judith Fegerl – reservoir
Judith Fegerl's installation "reservoir" was on display from June 2019 to May 2020 and consisted of two parts: First, twelve copper and aluminium plates were placed in glass containers filled with salt water in the foyer of Giefinggasse 4. After three months, the plates were removed from the salt water bath, processed and hung in pairs on the wall. The resulting structural changes in the material were clearly visible.
2018-2019 Chris Noelle - Deceleration
From November 2018 to May 2019, Berlin-based mixed-media artist Chris Noelle was our first artist-in-residence. Chris' exhibition called "Deceleration" addressed the constant changes in society and technology through spirography.
2018-2019 Chris Noelle - video project ONE
Parallel to the exhibition, we have realised the video project ONE with the mixed media artist Chris Noelle. In a one-minute clip, Chris interprets the research of our Centers in an artistic way.