Collision and Overspeed Monitoring and Prevention Assistance System for Tramways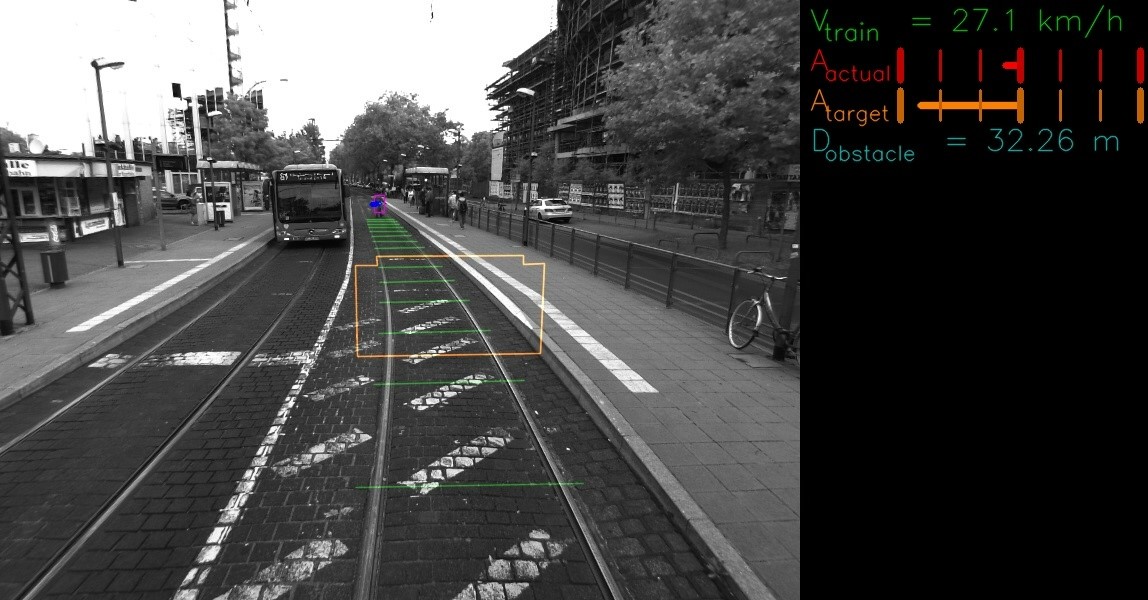 Safe tram operation through innovative assistance systems. Detected pedestrian in danger zone © Bombardier
Due to the high complexity of urban road traffic, collisions and derailments can also have serious consequences in tram operations. In the automotive sector, it has already been shown that driver assistance systems based on obstacle detection can effectively reduce the risk of accidents. For trams, such systems were not yet available in a comparable form due to significantly higher technical requirements.
In COMPAS, new methods of precise vehicle localization with optical 3D sensor technology have therefore been researched. A special technical feature of the COMPAS approach is the determination of the vehicle position independent of GPS or infrastructure support. This technology thus represents an important basis for innovative driver assistance systems.
Results from this project are already being used successfully in the existing ODAS collision avoidance system on Bombardier trams. The new localization technology has improved the route prediction, increasing the range and availability of obstacle detection, for example. Based on the same technology, an overspeed prevention assistance function is now added, which is now announced by the vehicle manufacturer Bombardier as the "COMPAS light rail vehicle safety system".