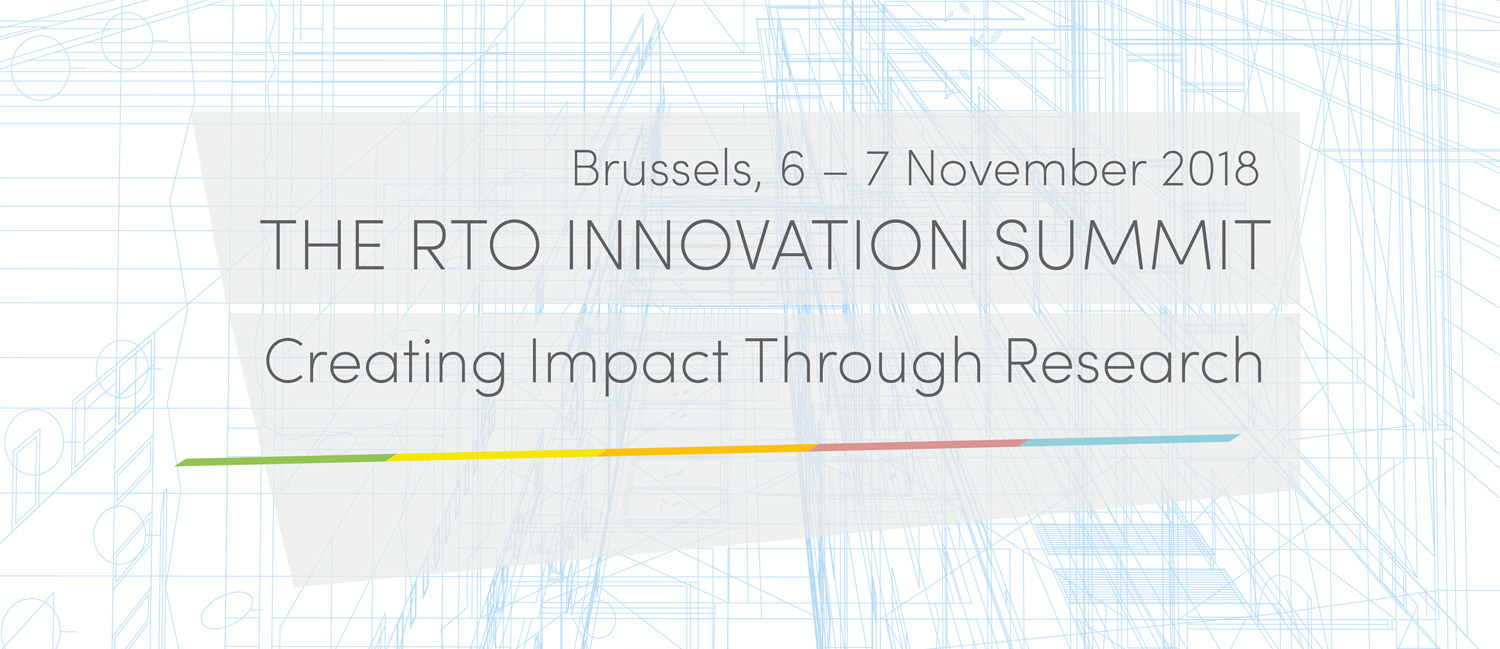 For the first time, ten leading European Research and Technology Organisations (RTO) explored at a joint multi-national conference the question of how application-oriented research and technology can help address global challenges and strengthen Europe's competitive position.

At "The RTO Innovation Summit" from 6 and 7 November 2018 in Brussels, delegates from European institutions, industry, politics and research discussed how the future of Europe can be strengthened by investing in innovations in order to sustain and expand its leading position in the global marketplace.

Looking ahead to the new EU research framework programme "Horizon Europe", the ten RTO partners presented their vision and roadmap for Europe and beyond. The importance of applied research to the competitiveness of industry and how society's challenges can be met were explored in discussion rounds and workshops.

Accompanying the conference, about 40 exhibits to touch and try out demonstrated the interaction between human and applied research. The visitors discovered latest innovations in the five clusters of Horizon Europe and how technologies can help and complement human beings in their lives.

Made in Austria - together we are strong
Our research activities are carried out in close cooperation with the Austrian industry. For example, with LieberLieber, an Austrian specialist for model-based system development, who operates worldwide i.e. in the automotive sector; or with fragmentiX Storage Solutions, an Austrian specialist for storage appliances and apps for resilient and secure storages. You can find a selection of their solutions in the download area in the category "Our Industry Partner Solutions".
The AIT Austrian Institute of Technology presented latest technologies and solutions - in close cooperation with industry partners - in the following fields:
Digital Identity Management
Today people want to move and travel freely as well as safely. Fast and secure access control, seamless border crossing, queue-less passenger checks at the airport and quick identification of individuals are the key to better security and convenience. AIT developed novel contactless biometrical sensor technologies for person identification and access control. These sensors are integrated into mobile (sepecial secured device, smartphone) as well as stationary systems (eGate).
Further information:
Situational Awareness & Decision Support
Today, safeguarding public spaces and critical infrastructures is of paramount importance. AIT provides innovative technologies for reliable, real-time event detection, situational awareness and decision support. The goal is to achieve fast situation and risk awareness to support the safe and efficient deployment of first responders. The novel airborne laser scanner is mounted on an unmanned aerial vehicle (UAV) and the 3D 360° panorama camera, mounted on a robot, is used to improve situation awareness for outdoor as well as indoor disaster scenarios. Further information:
Safety & Security for Cyber Physical Systems
Experts at AIT are creating leading-edge technologies and solutions based on machine learning technology appropriate for the future cyber defence ecosystem, to tackle the cyber threats arising from the emergence of comprehensive ICT networks with their increasing interconnectedness and unclear attack surfaces. Experts are developing privacy-enhancing technologies which are used to build trustworthy identity management systems and privacy-friendly smart applications for cloud computing and the Internet of Things (IoT). Furthermore, AIT is working on several techniques in the context of Safety and Security of complex, networked (cyber-physical) systems. Experts developed tools for ensuring safe and secure systems, e.g. a Safe and Secure Gateway for allowing non-secure production machines to be included in a modern Industry 4.0 context. Further information:
Cognitive Systems for Public Protection
AIT experts are working on a flexible, semi-automated video forensics system for the analysis of mass video data after terrorist attacks. This system will improve the efficiency and quality of work for investigators. Furthermore AIT is contributing its combined expertise in video and audio analysis, as well as the use of artificial intelligence models in order to develop an intelligent solution. This special forensic platform will allow very large and unstructured streams of raw data from videos, images, audio recordings and documents to be intelligently filtered, sorted and automatically annotated, so that the investigating officers can very efficiently create a digital case file. So, Visitors will have the possibility to investigate video & audio events including criminal activities. Secondly, in numerous national and EU research projects AIT has developed the GraphSense analysis platform, a tool for the forensic analysis of virtual currency transactions. Further information:
The complete list of exhibits can be found at: http://www.thertoinnovationsummit.eu/en/exhibitors/