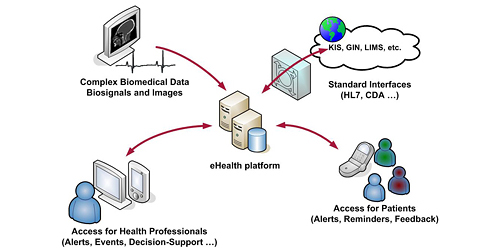 Image (AIT): The eHealth platform connects all relevant data and involved persons and thus enables more efficient treatment.
The AIT eHealth platform designates a collection of web-based components for data acquisition and processing, interoperability, visualization, decision support that can be combined to support data processing and management in the context of interdisciplinary, biomedical, clinical, or translational research as well as therapy management.
The AIT eHealth platform has been build using state-of-the-art multi-tiered architecture principles. Virtualization technology supports flexible and still rapid high quality implementation of your eHealth projects.