Innovative 3D sensor systems
open up a wealth of new applications in the areas of transport (assistance systems, autonomous systems), industrial automation, inspection and monitoring.
In this connection there is a need to solve fundamental problems such as
• 3D reconstruction of the environment
• obstacle detection and object recognition
• precise measurement of objects
• self-localisation of the sensor system
• path and movement planning
reliably, fast and efficiently. The integration of comparatively inexpensive image processing technology is crucial. To this end, algorithms for stereoscopic image processing are developed and optimised for efficient performance in real-time environments.
Another core competence is the platform-optimised implementation of such computer vision methods on energy-efficient embedded systems. Assistive & Autonomous Systems comprises a broad portfolio of research projects focusing on specific topics.
We focus on the following innovations and research topics
Autonomous

Land Vehicles

Sensor systems for capturing the environment of a vehicle in 3D enable driver-independent obstacle detection and routing, thus constituting an important element in assistance systems for vehicles ranging from rail vehicles (trains, trams) to road vehicles (cars, trucks) and vehicles used in the construction and agricultural industries (excavators, tractors etc.).

The overriding goal here is to improve safety by supporting the driver while also improving efficiency, especially in the area of mobile machines for industry, construction and agriculture. The technologies available also support the implementation of fully autonomous vehicles.

Project examples : auto.Bus - Seestadt; 3D4Bombardier; SafeCon; AUTILITY; COMPAS; INTELLiTRAM
Airborne Vision
Image processing algorithms and 3D sensors developed by AIT are making it possible to detect potential obstacles both in the air and on the ground (e.g. objects on the runway). They provide the basis for pilot assistance systems or autonomous airborne systems, which in the future will be able to take off automatically, fly to a target point and also land autonomously. However, this will require reliable obstacle detection under different environmental conditions, the capability to perform evasive manoeuvres to avoid collisions, and reliable self-localisation independently of satellite navigation. Such systems can provide a rapid overview of the situation in the context of crisis and disaster management, for example, in case of fire, floods, avalanches or major events, where it is of critical importance to locate endangered persons or determine the direction and extent of spread of toxic gases.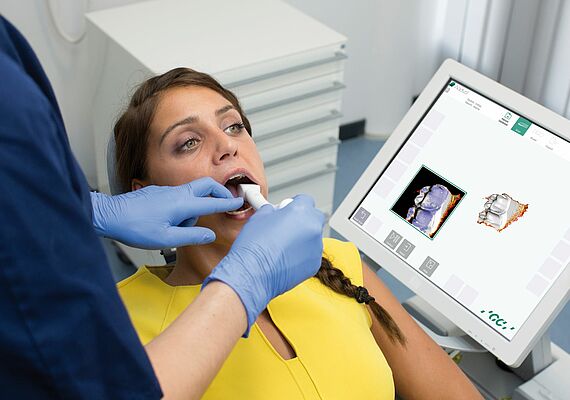 Measuring the World
The 3D sensors and algorithms developed by AIT for the spatial capture of objects are used in a variety of applications e.g. AIT LightScan Technology. For example, in medicine, special 3D scanners are replacing unpleasant silicone dental impressions. And in industrial production, image processing technologies can increase product quality, resulting in lower maintenance costs.
Example: 3D Dental Scanner